Amaryllis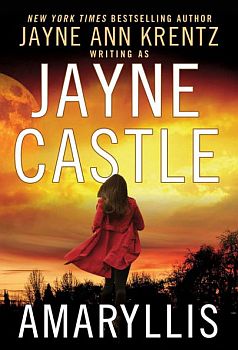 St. Helens
Originally Published October 1, 1996
Recently published August 24, 2021
Paperback, e-Book, Audio
Acclaimed for her novels of "delectably entertaining paranormal romantic suspense" (Booklist), the wildly popular alter ego of bestselling author Jayne Ann Krentz takes off on a star-dusted excursion to a rich civilization where danger and passion are just a heartbeat away.
Amaryllis Lark is one of the best psychic detectives on St. Helen's, the Earth colony recently cut off from the mother planet—and a place where love defies the most incredible odds. Lucas Trent, the rugged head of Lodestar Exploration, isn't attracted to prim and proper women and takes no interest in Amaryllis, with her crisp business suit and her aloof evaluation of his request to bust a corporate thief.
But when a bold hunch leads them from a wild murder investigation to an electrifyingly red-hot love affair, no power on heaven, Earth, or St. Helen's can keep them apart.
Originally published October 1996 in mass market paperback and September 2010 in mass market paperback and eBook.
"When professional full-scale prism Amaryllis Lark agrees to serve as the "focus" for the highly psychically talented Lucas Trent in a security investigation for his company, their mind-link produces excitement
—
and leads them into a dangerous search for a clever psychic murderer. The chemistry between the pragmatic hero and prissy heroine is on target here. Writing under the name Jayne Castle for the first time in 16 years, veteran romance writer Jayne Ann Krentz takes her trademark combination of witty, upbeat action; lively sensuality; and appealing characters to the unique, synergistic world of St. Helens."
—
Library Journal
"Ms. Krentz (Castle) does an incredible job of creating a unique, realistic world in the not-too-distant future and filling it up with real characters. Readers will be looking forward to the next passionate story from Jayne Castle and Psynergy, Inc. A stunning tale from the amazing Jayne Castle! This is the future of futuristics! Ms. Castle creates a believable future with characters we care about! Readers have come to expect only the best from Jayne Ann Krentz… and she never disappoints!

"

—

Literary Times
* This site contains affiliate links to products. We may receive a commission for purchases made through these links. Specifically, this site is a participant in the Amazon Services LLC Associates Program, an affiliate advertising program designed to provide a means for website owners to earn advertising fees by advertising and linking to amazon.com, audible.com, and any other website that may be affiliated with Amazon Service LLC Associates Program.