All Night Long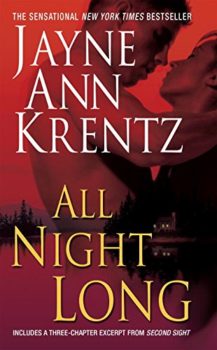 Originally Published January 3, 2006
Recently published January 30, 2007
Hardcover, Paperback, Audio, e-Book
The smaller the town, the darker the secrets…
Shy, studious Irene Stenson and wild, privileged Pamela Webb had been the best of friends for one short high school summer. Their friendship ended the night Pamela dropped Irene off at home—and Irene walked in to discover her parents' bodies on the kitchen floor. It was ruled a murder-suicide, and Irene fled the northern California town of Dunsley. But seventeen years later, when Pamela sends a cryptic e-mail asking for help, Irene returns to her hometown to find her old friend has died suddenly, leaving behind a lot of ugly, unanswered questions.
Caught up in a firestorm of desperate deceit and long-buried secrets, Irene knows it would probably be smarter to just pack up and leave Dunsley behind again, but her reporter's instinct—and her own hunger to know the truth—compel her to extend her stay at the local lodge. Even more compelling is the man who runs the place—a hazel-eyed ex-Marine who's as used to giving orders as Irene is to ignoring them. Luke Danner can see the terror beneath Irene Stenson's confident exterior—and he is intent on protecting her. But he is also driven by passions of his own, and together they will risk far more than local gossip to sort out what happened to Pamela Webb, and what really happened on that long-ago summer night. . . .
Originally published January 2006 in hardcover by Putnam.
* This site contains affiliate links to products. We may receive a commission for purchases made through these links. Specifically, this site is a participant in the Amazon Services LLC Associates Program, an affiliate advertising program designed to provide a means for website owners to earn advertising fees by advertising and linking to amazon.com, audible.com, and any other website that may be affiliated with Amazon Service LLC Associates Program.