Absolutely, Positively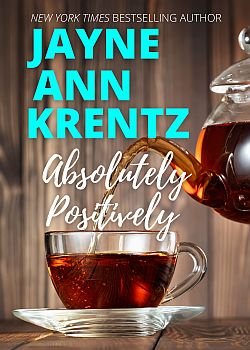 Originally Published February 1, 1996
Recently published May 22, 2014
Hardcover, Paperback, e-Book
Molly Abberwick, trustee of her father's foundation and owner of Seattle's Abberwick Tea & Spice Company, has every intention of firing her new consultant. True, he's brilliant, sexy, and fascinating, but he's also arrogant, over-bearing and impossible. Dr. Harry Stratton Trevelyan has his own plans. To Molly's shock, he proposes a no-strings attached affair. Molly can't believe that he thinks there is any such thing as a simple, no-commitment relationship. But there is this strange attraction between them… Turns out Harry Trevelyan has a secret side. It involves paranormal premonitions and his family of composed of carnival illusionists, daredevils and psychics. Before Harry and Molly can find a way to overcome their personal issues, violence and a mysterious stalker crash into their lives. Now these two mis-matched people will have to find a way to work together to survive.
Listen to an audio clip:
Originally published February 1996 in hardcover.

* This site contains affiliate links to products. We may receive a commission for purchases made through these links. Specifically, this site is a participant in the Amazon Services LLC Associates Program, an affiliate advertising program designed to provide a means for website owners to earn advertising fees by advertising and linking to amazon.com, audible.com, and any other website that may be affiliated with Amazon Service LLC Associates Program.