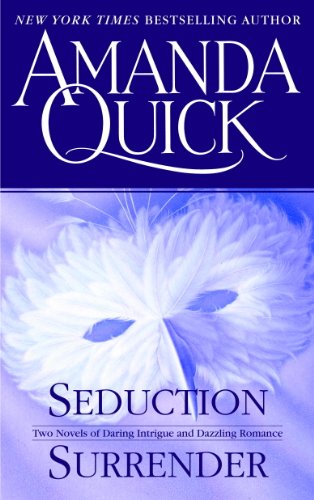 2-in-1 Anthology re-release
First published Jun, 2004
Seduction and Surrender
Seduction
Townsfolk called him devil. For dark and enigmatic Julian, Earl of Ravenwood, was a man with a legendary temper and a first wife whose mysterious death would not be forgotten. Some said the beautiful Lady Ravenwood had drowned herself in the black, murky waters of Ravenwood Pond. Others whispered of foul play and the devil's wrath.
Now country-bred Sophy Dorring is about to become Ravenwood's new bride. Drawn to his masculine strength and the glitter of desire that burned in his emerald eyes, the tawny-haired lass had her own reasons for agreeing to a marriage of convenience. One was vengeance, and in its pursuit she would entangle Julian in a blackmail plot, a duel at dawn, and a dangerous masquerade. The other reason was dearer to her heart, but just as wild a quest: Sophy Dorring intended to teach the devil to love again.
(originally published by Bantam Books in March 1990)
Surrender
From the dazzling ballrooms of glittering London society to magnificent, cursed estate in the distant wilds of Yorkshire, comes the deliciously wicked story of a thoroughly unconventional courtship—and a thrilling midnight rendezvous that could only lead to love…
At four and twenty Victoria Huntington thought herself quite adept at fending off fortune hunters… until she came under siege from Lucas Colebrook, the darkly disturbing new Earl of Stonevale. Amidst the brightly plumed birds of the town, Lucas was a hawk. And when he held out the lure of moonlit rides and wild, reckless midnight escapades, Victoria found herself powerless to resist.
But becoming Stonevale's companion in adventure was far more dangerous undertaking than Victoria could ever imagine. For the attractive Earl would use her every weakness to woo her, to win her, and ultimately to wed her. And soon the amber-eyed lady would find herself ensconced in a crumbling mansion deep in the English countryside… where the real reason for her hasty marriage becomes all too apparent…and where the ghosts of her dark-stained past are waiting to rise up in a terrifying plot that will threaten her life, her honor, and the only man she could ever love.
(originally published by Bantam Books in October 1990)