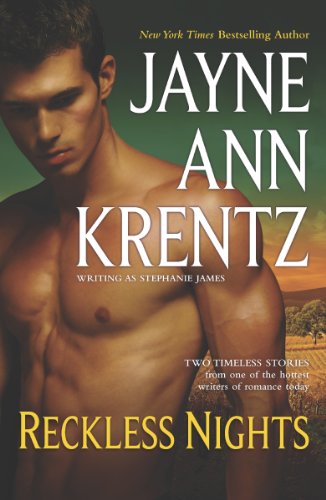 2-in-1 with Stormy Challenge and Reckless Passion
First published Nov, 2013
Reckless Nights
Love has a dangerous side in these compelling classics from New York Times bestselling author Jayne Ann Krentz
STORMY CHALLENGE (originally published July 1982 in Silhouette Special Edition #35, writing as Stephanie James)
Leya Brandon doesn't know what—if anything—to believe about Court Tremayne. He already lied about his name. And while she thinks her heart isn't at risk, she clearly underestimates his all-consuming desire to win her for his own. Little does she know that Court has no intention of stopping his pursuit…not until he leaves her hungering for the fulfillment only he can give.
RECKLESS PASSION (originally published December 1982 in Silhouette Desire #31, writing as Stephanie James)
With his carefully groomed Southern manners, Yale Ransom might have stepped straight out of Gone With The Wind. But stockbroker Dara Bancroft senses a passion beneath the glossy surface of her prospective client, and recklessly, she offers him an unspoken challenge, never expecting that their conversation could explode into desire she's never felt before. But she pushes him too far, and now Yale wants to make her pay…straight from the heart.