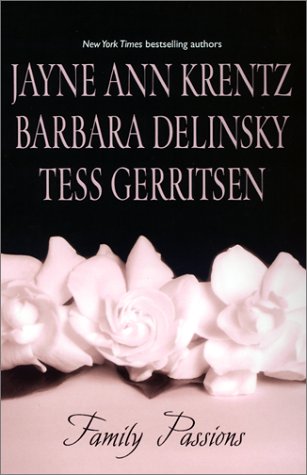 Anthology with The Family Way
First published Apr, 2002
Family Passions
"The Family Way" by Jayne Ann Krentz
Expecting a baby was supposed to be the most incredible thing in her life, but for Pru Kenyon, it was bittersweet. Her relationship with live — in love Case McCord was both exciting and satisfying. But she knew Case wasn't willing to take it to the next level of commitment. So she did the only thing she could . . . She walked away from the love of her life.
"The Stud" by Barbara Delinsky
Jenna McCue had never gone looking for "stud" services before. But since Spencer Smith was a professional adventurer, he might look on this favor as just another adventure to notch on his belt. Only a few minutes for a routine clinical procedure. But Spencer had other ideas. If he agreed to father a baby, it would be the old-fashioned way. Now that was an adventure!
"Presumed Guilty" by Tess Gerritsen
Miranda Wood had been accused of murdering her ex-lover. She had a motive and the opportunity. So she was shocked to learn she'd been released on bail. Would she have time to clear her name, or was someone manipulating her into the secret world of a murdered man, where everybody's presumed guilty?